Curbside pickup of requested items, computers by appointment, and other limited services are available.  Please contact your library for specific information on services provided. 

How Library Express works:
Patrons under age 13 must be accompanied by an adult.

Maximum of FIVE (5) people (or 1 family) allowed.

Our indoor drop box is CLOSED.  Please use our drop box outside.

Masks (or facial coverings) and social distancing are required.

Please do not visit us if you are ill.
While you are in the library:
You are welcome to browse the collection, check out items, pick up holds, ask questions, or apply for a library card.

Your visit must be limited to 15 minutes.
CURBSIDE PICKUP IS STILL AVAILABLE!  Call us at 796-5560.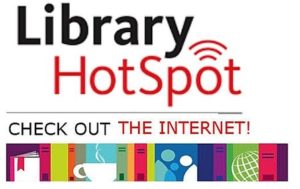 Borrowers must contact the library (Spicer:  796-5560) to place a hold on one of the devices.

The loan period is 28 days. HotSpots are NOT renewable.

HotSpots not returned by the due date will be turned off and rendered unusable.

For more information and a full list of our rules and regulations, please contact the library.